< Back
/
Heartware Stories
> Compare
Heartware Stories - A story in every neighborhood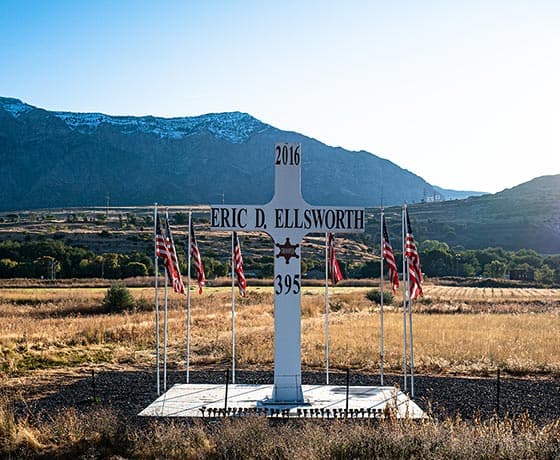 State Trooper
Eric Ellsworth was a larger-than-life guy. A proud husband and father of three, he spent his days protecting the folks around Brigham City, Utah, or tossing one of his three young boys up on his broad shoulders to cart them around town.
Watch Video
Have a story for us?
Submit a story idea with
#HeartwareStories
to be considered for a future Heartware Story.
Follow us on Instagram to watch the journey and get behind the scenes moments.
What are Heartware Stories?

At Ace Hardware we believe everyone has a story to tell. These are acts of amazing moments, where an individual or a community bonds over shared strength and determination. These stories happen in big cities and small towns across America. Each and every day. Even in hardware stores.

How are Heartware Stories selected?

Heartware Stories are reviewed and selected by a team at Ace Hardware's Corporate office. We discover Heartware stories a number of ways – from hearing about them from our customers directly as well as through social media, local news coverage and Ace's corporate field staff.

How can I submit a Heartware Story?

We'd love to hear a story to consider for a future Heartware Story. If you have a story you want to share please include a short description, name of the store, name of the city/state and names of individuals involved. You can submit a story in 3 ways.

Tagging us on Facebook, Twitter or Instagram using #HeartwareStories

Send us a letter to 2200 Kensington Ct., Oak Brook IL 60523 Attention: Consumer Marketing Department

Are Ace's individually owned?

Ace Hardware has over 5,000 stores around the world with the majority of those stores independently owned and operated by local entrepreneurs.

How can I find out about new Heartware Stories?

Visit acehardware.com/heartwarestories to join our email list to receive stories right to your inbox. Be sure to follow us on Facebook, Instagram and Twitter for more news and behind the scene moments of this series. Photos and videos can be viewed searching #HeartwareStories.